About event
Tours and activities are the third largest sector in the travel niche, so if you already promote flight tickets and hotels, travel activities might be the next logical step. In this post, Shradha Bhatia, Strategic Partnerships Manager at Musement, presents the Musement affiliate program and shares the latest travel trends and the best practices on how to make money on tours and activities and get high conversion rates.
What is Musement?
Musement is a leading online platform for booking activities, tours, museums, shows and art events all over the world, including top-selling products in destinations like Italy, France, Spain and the USA. The service helps travelers discover top attractions and hidden gems, get personalized recommendations and book tickets quickly and easily.
Musement advantages for customers:
40,000 activities
15,000 owned tours
2,000 cities
90 countries
86% tickets are paperless
Popular destinations. The company covers all major tourist destinations in the world, with particular attention to Western Europe (Italy, Spain, France). Also, Musement grows its inventory in the United States, the Middle East and Asia.
Target audience. Here are the main categories of customers at Musement:
Culture vulture. Travelers with a passion for art, culture and history. They usually prefer historical tours.
Social wanderer. Such tourists travel alone or in a group. They have rather fast-paced trips.
Happy family. Families experiment with all kinds of products to cater to every family member.
Active adventurer. These are mostly young travelers with a fancy for sports, safari, etc.
Product range. The biggest categories and examples of the products presented at Musement are listed below:
Museums & Art (Exhibitions, museums, historical monuments, etc.)
Tours & Attractions (Bike tours, film tours, castle & palace, aerial tram tours, etc.)
Performances (Dinner shows, cabaret, concerts, operas, musicals, etc.)
Food & Wine (Dining experiences, wine & beer tasting, cooking classes)
Active & Adventure (Hiking, Jeep tours, horseback riding, etc.)
Sport (Basketball, Formula 1, football, golf, etc.)
Depending on the nature and marginality, activities are divided into four main categories:
Stand-alone tickets featuring better conversion
Musement products made by local experts and featuring high marginality (over 50%)
Special events which are a strong reason to travel
E-tickets available for purchase near the attraction
Musement for affiliates
Here are the advantages of the Musement travel activities affiliate program:
50% revenue share (standard)
Up to a 60% revenue share depending on the volume of sales
6-8% conversion
Access to the API support team who helps with integration
Your clients will have access to Musement customer care active 24/7 in five languages
Commissions constitute from 10 to 50% of retail price

Tickets to major attractions, city passes, hop-on-hop-off tours and guided tours by local providers convert well for most affiliates.
Musement does its best to help affiliates sell tours and activities. First, there are various product categories for any taste and the best prices on the market. Second, Musement offers their business solutions for affiliates and provides full support along the way. Third, the company shares 10-50% of the retail price, which is the highest commission on the market.
In this Musement affiliate program review, we present three business solutions:
API allows you to send search queries from your platform to your Musement affiliate website. There is full API integration for the entire booking flow and a partial API integration by deep linking.
White Label includes the Musement logo on top and a customized subdomain yourname.musement.com.
Widget allows visitors to go through the entire booking flow on your website. All you need to do is to copy and paste the code into the relevant page of your site.
Partnership examples
Some of the partnership examples of Musement are below.
Google Trips
Google Trips is a travel app to plan and organize trips easily. When users explore a destination, they look through local activities and book them through Musement technology.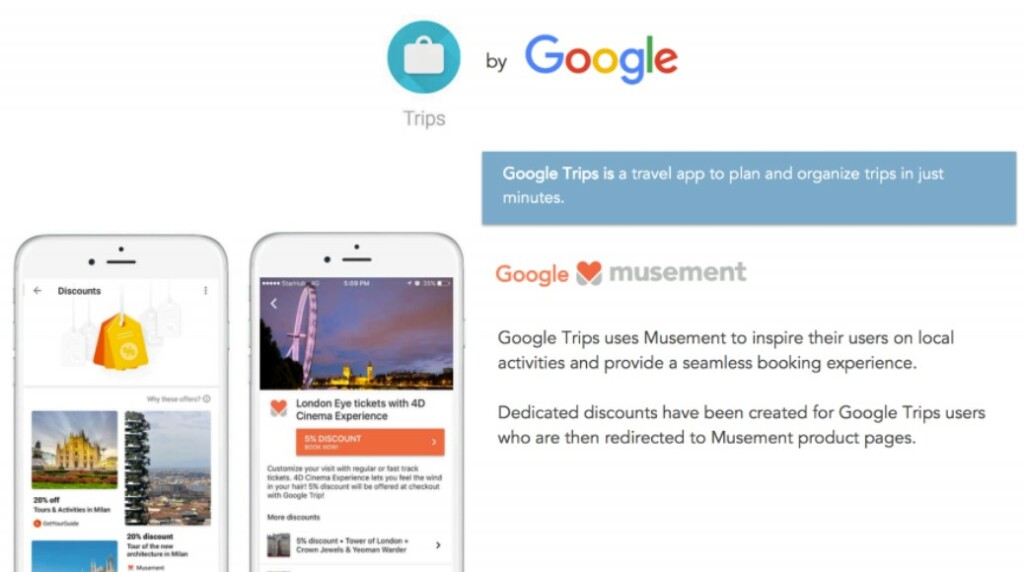 Hostelworld
It is the leading global hostel booking platform with over 33,000 properties across 170 countries. Hostelworld uses the White Label solution and links from pre-trip emails to inspire users to find the best activities in the destination of their preference.
Users are sent to dedicated landing pages with selected activities matching their profile. For example, when a client looks for hostels in a particular location, say, London, they can also explore the things-to-do page and book an activity with Musement.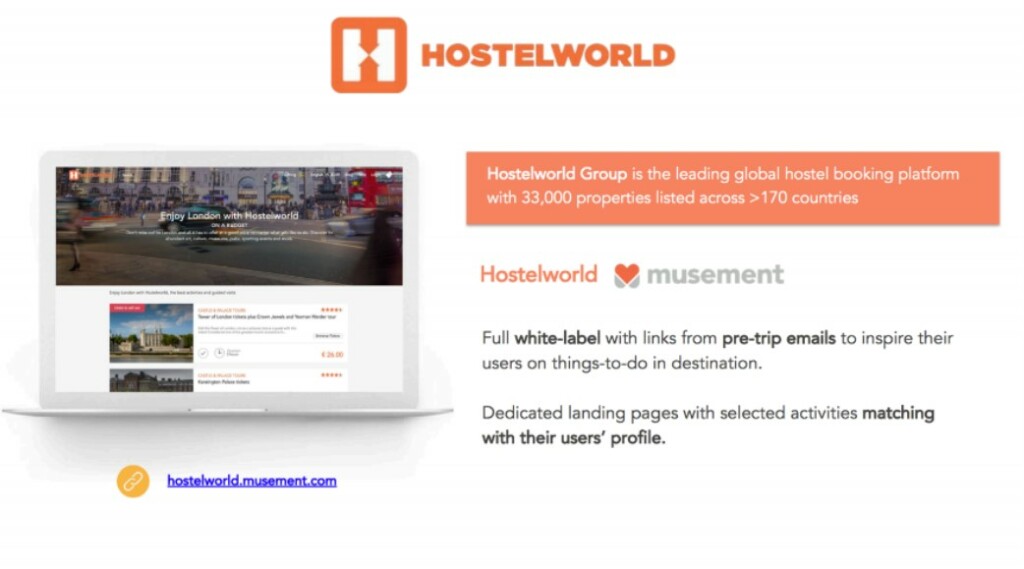 Luxe
This is a mobile application offering guides to major cities worldwide as well as insider tips on best hotels, shops and activities. Users can book experiences without leaving the app.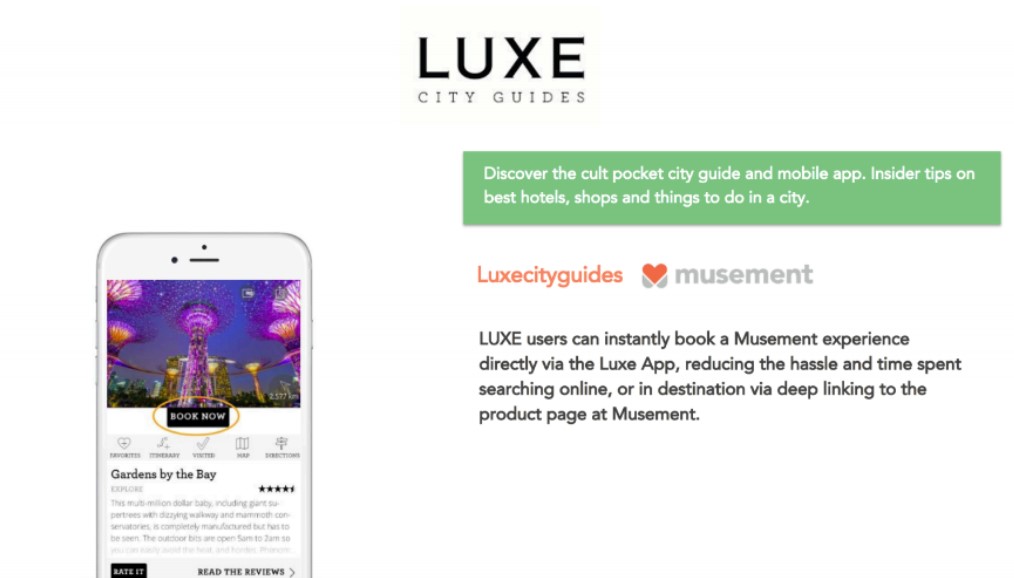 Best practices for businesses
The key thing is to build trust with your audience. For this purpose, use your own style and voice when telling customers what to expect from Musement products.
There are three linking options. You can send customers to:
Musement homepage. This is the least efficient option, as customers will have to surf on the Musement website to find the product they are really interested in. You can use anchors such as "Hot right now" or "Find your inspiration."
Musement destination page. This option increases performance, but is still too generic. To maximize the chances of a sale, link to the top 10 products in the destination.
Musement product page. It is the most efficient option. You can link to one or two top products for the suggested destination and use their names as an anchor.
How to earn on tours and activities on Musement
Earning on tours and activities is pretty easy, as it is the next thing travelers book after flight tickets and accommodation. With the Musement tours affiliate program, you can help your readers find the best experiences in the most popular tourist destinations around the world and earn up to 50% commission of the retail price. Become a Musement affiliate and help your audience organize an unforgettable vacation wherever they go!
***
Account activation notifications
Your account isn't activated. Activate your account to get onboarded and start earning! Resend activation email.
An email has been sent. Please click the activation link provided.
Success! Your account is now confirmed and activated. Check your mailbox to find the onboarding guide.
***
ForwardKeys reports that 2019 saw a 5% increase in passenger traffic for the Carribean. North America experienced the highest growth in tourist inflow: +6.5% in the United States and +12% in Canada. The most popular destinations in the region are the Dominican Republic (29% of tourists), Jamaica (12%), Cuba (11%) and Bahamas (7%). Earn on the most popular tours around the world with TourRadar
Google Webmasters updated its mobile-first indexing. Key recommendations are:
Deliver the same content in mobile and desktop website versions
Use similar meta tags for robots, title, description
Make sure that URL-addresses within mobile structured data direct to mobile pages
Provide the same alternative text for mobile and desktop images
Don't place videos at the bottom of the page
The United States is the most popular destination for Spanish tourists, as 26% of them inquired about traveling to the US. The top five destinations for Spaniards also include Morocco (7.0%), Mexico (5.3%), Thailand (5.0%) and Argentina (4.3%).
We are glad to announce that GetYourGuide has joined our affiliate network. GetYourGuide is a booking platform for tours, excursions and other travel activities around the world. This is a great opportunity to make money in one of the most actively growing travel market segments.
This year, we have a lot of new ideas and tasks, so our team added yet another 25 people. Meet five of them. They're all talented, interesting people and are real experts at what they do.
Omio is heading across the Atlantic. The travel-booking platform launches its services in the USA and Canada. Join the Omio affiliate program and start earning money in these new markets. By the way, Omio has prepared a promo code that will help boost affiliate sales.
There are plenty of ways to make money online in 2020. If you are ready to enter the online money-making club, start with the Travelpayouts affiliate network and earn on travel services online. Travelpayouts affiliate network includes Booking.com, GetYourGuide, Discover Cars, Trip.com and more than 30 other travel-related affiliate programs.

What will you learn


Musement affiliate program;


How to make money on tours and activities;


How to use affiliate tools and get high conversion rates;


Travel trends for tours, activities and experiences.


Speakers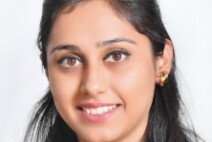 Shradha Bhatia
Strategic Partnerships Manager at Musement