About event
Omio helps clients compare prices for train, bus and flight tickets to find the best option for traveling across Europe. In this post, Brian Nevin, Head of Affiliate Marketing at Omio, shared some travel industry insights, a review of the Omio affiliate program and some best practices.
Travel industry trends
Overall bookings in the travel niche can be roughly divided into two categories where 60% belong to leisure bookings and 40% belong to business bookings.
57% of travel bookings are made online and half of them come from mobile apps.
Many tourists are more comfortable planning their trip themselves instead of purchasing a package tour.
Off-season travel is also popular since it gives a big price advantage in terms of transfer, booking availabilities and the opportunity to acquire first-hand experience of local culture.
Mini trips (two, three or four day tours) also begin to gain momentum. These are mostly culture-filled weekends, foodie experiences, romantic getaways to special spots and other short breaks.
About Omio
Omio is a search engine and online booking platform that helps people find the cheapest and the most comfortable transportation, including trains, buses, flights and even ferries. Here is Omio in numbers:
100,000+ cities in Europe
Fully covering 15 markets
Present in 36 ones
800+ transport partners
27,000,000 monthly website views
Desktop available in 18 languages
App available in 14 languages
Payment available in 4 currencies
Omio was formerly known as GoEuro, but changed its name in February 2019 in order to go global and scale beyond the regional grounding. The company's headquarters is located in Berlin, and there are offices in Prague and London. The most active markets are Germany, the UK, France, Spain, Italy and North America.
Target audience
The tab below displays averaged data on Omio's target audience.
Gender
57% male vs. 43% female.
Age
25–34 years old (35%)
35–44 years (19%)
18–24 years (14%)
45–54 (14%)
55–64 (11%)
65+ (7%)
Markets
Spain, France, Italy, the UK, Germany, the USA, the Netherlands, Sweden, Russia, Poland.
Devices
Mobile (55%)
Desktop (40%)
Tablet (5%)
Most popular routes and top performers
Top performing itineraries are mostly situated in Europe, but there are high-converting routes in other parts of the world. A few examples of the most popular routes are below:
Madrid – Barcelona
London – Paris
Barcelona – Madrid
Paris – London
Rome – Florence
Affiliates can request a catalog for their market, since the products (trains, buses, flights) sell differently. On average, trains convert better than other transportation types for any market.
Omio mobile
Omio provides affiliates with smart banners that look flawless on any screen. As for app to app tracking, it is still sort of a headache for advertisers, because it's really difficult to attribute sales to affiliates. However, Omio hopes to facilitate the process soon.
Affiliate program
The Omio affiliate program uses the CPA (Cost Per Acquisition) model, rewarding affiliates with a 6% commission on all sales on sites.
Here are the benefits of joining the Omio affiliate program:
Low cancellation rate (<2%)
Automated monthly payments
Track your campaign in real time
Average order value is 75 euro and up to 85 euro in July and August
Search API for partners with over 1M monthly users in a month
Omio affiliates receive all necessary creative assets such as banners in different languages, deeplinks and a search widget. In terms of numbers, 84% of bookings are generated through affiliate links, 16% through widgets and less than 1% through banners.
In addition, Omio regularly runs promotions, for example, by increasing commissions on tickets on certain routes. You can also create a landing page in some cases, if writing about a specific mode of transport for instance, but it's discussed individually.
User experience
Omio pays a lot of attention to user experience to satisfy clients and help them get the necessary information and make bookings. Let's learn more about the company's approach.
Localization & personalization
On the Omio homepage, you can choose your local language, currency, sign into/up for  the website, as well as view your bookings. Thus, the booking process will be comfortable for clients from the very start.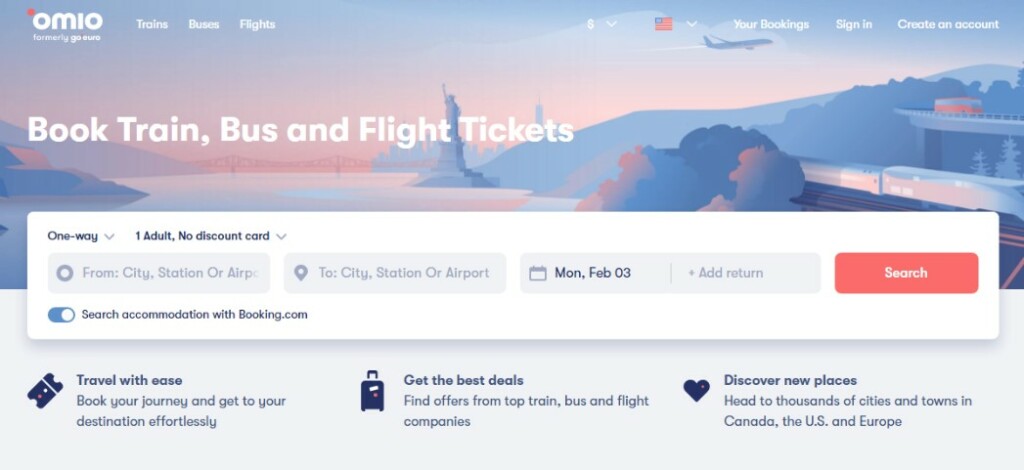 The booking process is fast and easy, and you can buy tickets directly on the website. First, clients see the Omio homepage, then search results and finally their booking.
Even if the purchase comprises various transportation modes, i.e. bus and train, you still have it as one bundle, which makes travel planning comfortable and quick.
Intuitive search & simple navigation
Users can make a quick and intuitive search with Omio smart calendar.

Omio identifies the country of your IP address and preferences and displays relevant offers in the "Top trips" section.

In terms of filtering, the search results enable users to choose exactly what they need.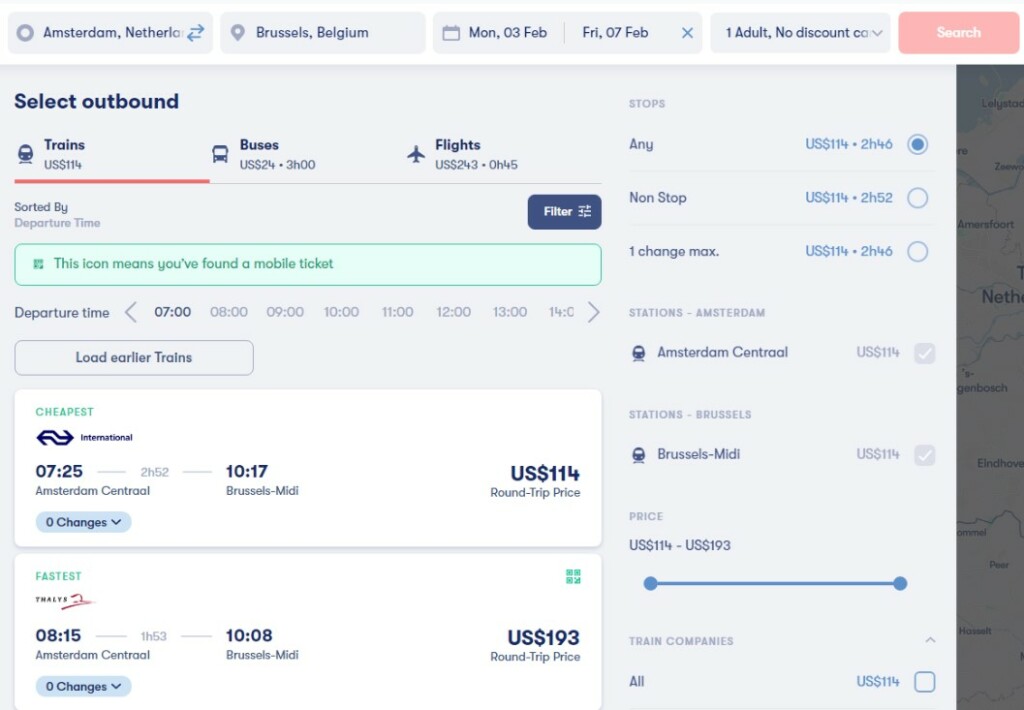 It's an important feature that allows users to customize their search results even more. For example, they can choose between traveling nonstop or having stops along the way, and early departures or late flights. Plenty of travelers look for certain modes of transport, providers, etc.
Easy checkout
Omio makes checkout simple and fast:
Information is laid out in a logical order.
Clear instructions are provided for the users.
A progress bar is in the header to display the current progress.
Optional sign-in (Some online services still force visitors to sign up and deny access to purchases without registration).
Mobile friendliness
The mobile-friendly Omio website is suitable for smartphones/tablets and features the same content, functionality and purchase flow as the desktop version. The image sizes are even small enough to allow for rapid loading over mobile connections.
In addition, it's possible to download the Omio app from Google Play or the App Store for simplified transactions, offline access and better personalization.
How to gain profits with Omio
Omio features a very efficient and simple purchase funnel that provides affiliates with high commissions. To partner with Omio, you need to run a website, blog or app or have the experience of working as a travel agent. To get the maximum benefits, focus on driving huge traffic to your website.

What will you learn


Travel industry trends and user experience


About Omio: target audience and the most popular routes


Omio's offer at Travelpayouts


Best practices and use cases


Speakers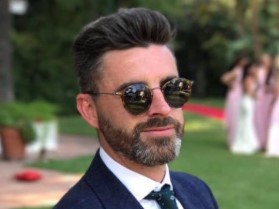 Brian Nevin
Head of Affiliate Marketing, Omio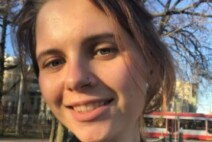 Valeria Molkova
Partner Relations Manager, Travelpayouts